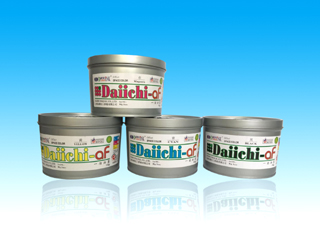 This high-end ink is made for high glossiness as target. It enhances the surface glossiness, reduce dot gain and change in drying, increase adaptability in post-production. It is suitable for printing matt coated paper of high gloss high-end magazine, publicity catalog.

It has brilliant color, high color density and excellent dot reproduction and printability and stability . It also has good printability for post-production, fast drying, avoid picking up dirt, scratch, and ser-off troubles. Suitable for matt coated high grade paper of high class printing matters by high speed machine, such as publicity catalog, commercial printing, export packaging, and magazines etc.

Suitable for art coated paper
This product has excellent printability. it enhances rub resistance, glossiness and good dot reproduction, it contributes to the tuning screen printing in high quality printing. The good post production printability strongly protect the surface of printed matters. It shortens about 30% of setting and drying time. The penetrating material can smoothly penetrate from the ink skin to the paper, thus forming ink skin rapidly, shortening the time waiting for drying and reversing. Through the newly developed lining material, it greatly widen the tolerance of ink to fountain solution and achieve increase productivity.

Test method:

Viscosity(DM):measured by Spreadmeter(60sec/25℃)
Tackness value(TV): measured by ink-o-meter(60sec/400rpm,32℃)
Particle size: measured by Grinding gauge(u m)
Gloss value: measured by Glossmeter(60')
Set time: measured by setting tester(120g/㎡,ink 0.01cc)
Rub resistant: measured by rub test